SKYCOM Corporation
Company Information
| | |
| --- | --- |
| Company Name | SKYCOM Corporation |
| Established | June 1997 |
| CEO | Ikuo Kawahashi |
| Capital | ¥100Million |
| Head Office | 10F, Akihabara Bldg, 19 Kanda-matsunaga-cho, Chiyoda-ku, Tokyo 101-0023, Japan |
| Development Office / Miyazaki Branch | Sakashita Bldg, 2-10-20 Hiroshima, Miyazaki-shi, Miyazaki, 880-0806, Japan |
| Shareholder | TKC Corporation(100%) |
Our Strengths
SkyCom is a pure-play technology company focusing on PDF and owns all of PDF element technologies developed in-house.
SkyCom was established in June 1997 under the slogan of "Contribution to the realization of Safe and Secure electric document society".

"SkyPDF", SkyCom's PDF driver software released in 2003, has cleared rigorous selection criteria of central/local government and enterprises and rated highly as High-Speed, High-Compression PDF software with High-Safty features such as falsification prevention and encryption. SkyPDF enjoys a good many of introductions globally.

SkyCom offers electric document related products for generation, editing, viewing, printing, and sharing of electric files to promote secure and paperless business with PDF, global standard of electric documents, as the core.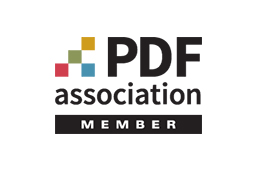 Expertise and technology that only pure-play maker can do.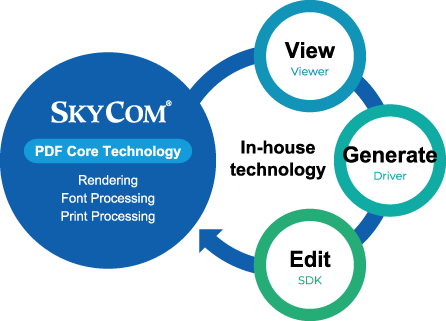 SkyCom develops and owns three major elements of PDF (View / Generate / Edit) in-house.

SkyCom is confident and proud of its "Made in Japan" PDF software and established very high reputation not only in Japan but also overseas with its expertise and technical strength.

Even if it was not explicitly provided, SkyCom's PDF technology is embedded in the PDF applications and business systems used among public, private and financial sectors.

SkyCom strongly supports customers using PDF and PDF technology, and proposes high value, high quality products and solutions for customers to cope with fast-changing business environment flexibly.
Inquiry